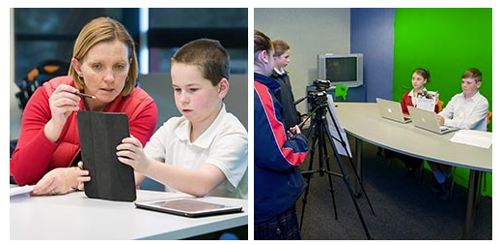 What is it?
Experienced Christchurch Libraries facilitators will explore elements of computational thinking and digital story-telling with you and your students to support your DigiAwards entries.
Their programmes aim to foster confident creative and connected life long learners. They provide learning experiences in a technology-rich environment. Topics being covered could include: 
+ Coding & robotics 
+ Animation
+ Digital audio, imagery and video
+ From 2D to 3D
+ Stop motion
Who for?
+ Teachers, principals, APs or DPs AND students from Years 0–8 (from Christchurch East)
+ You may register yourself and up to two students (one date only).
+ There is a maximum 40 attendees at each Tūranga workshop.
+ There is a maximum of 24 attendees at the Aranui workshop (For schools in East Christchurch only)
What else?
We invite you to attend and learn alongside your students during the workshop so that you can take new learning back into your own schools to share with other DigiAwards participants.
If you have a lot of staff from one school wanting to attend, please be mindful that other schools might miss out. We will do our best to make the registration process fair. Please only register to attend this workshop if you intend to enter your students into the DigiAwards.
This is one workshop being offered on three different dates.
+ June 18, 1–3PM: Tūranga Library
+ June 25, 1–3PM: Tūranga Library
+ July 23, 1–3PM: Aranui Library 
NOTE: PLEASE REGISTER FOR ONE WORKSHOP ONLY, BY JUNE 30
#gwdigiawards