Nau mai, haere mai!
Grow Waitaha invites you to enter DigiAwards 2019!

The DigiAwards enables primary and intermediate students from throughout Waitaha to design, develop, and showcase their digital outcomes. The event encourages and celebrates the digital creativity of our ākonga. 
This year students can submit entries for the DigiAwards in te reo Māori as well as English.
Find out more about DigiAwards 2019 under the headings below. 
#gwdigiawards2019
Who can enter?
All Year 0–Year 8 students from the Canterbury region can enter the DigiAwards, including home-schooled children.
Grow Waitaha encourages ākonga from Māori medium schools to submit entries in te reo Māori. 
 Entries will be categorised in the following year groups:
Year 0–Year 2

Year 3–Year 4

Year 5–Year 6

Year 7–Year 8
If an entry is created by students from a range of ages, please select the year range that the oldest student falls into.
Key dates
22 July – Entries open

20 September – Competition closes

13 November - DigiAwards 2019 celebration evening
The DigiAwards 2019 celebration evening will take place in the Charles Luney Auditorium at St Margaret's College from 7:00 pm.
All participants will receive a certificate and a range of prizes will be awarded to the schools of successful winners. 
Theme
DigiAwards theme 
The theme for DigiAwards 2019 is Innovative Ōtautahi!
This theme was chosen to:
celebrate the many amazing initiatives happening in Christchurch as our city regenerates

encourage our ākonga to become creative innovators themselves.
Students and supporting educators can interpret the 2019 theme in their own way. Ākonga may choose to share stories of Ōtautahi innovations or they could showcase their own innovative and creative products and solutions. 
Self–chosen theme
Educators and students who wish to submit entries under a self-chosen theme can identify their own special concept to focus projects on.
They may like to use this student hack to develop the theme (pdf). 
Entry categories
Students can enter a project under one of the following categories:
In 2019 students can submit entries in te reo Māori in any of the above categories.
Entry criteria
To ensure the DigiAwards are fair, all entries must meet the following criteria:
All entries must be the original work of the student/s submitting the entry.

All entries must reflect the DigiAwards 2019 theme or a self chosen theme.

Any other media content, such as images and sound, need to adhere to appropriate

Creative Commons

licensing. See our list of supporting

Creative Commons websites

.

All entries must be created after 1 February 2019.  

The entry form needs to be completed in full.

An adult needs to be identified on the entry form.

If an entry is created by students from a range of ages, the year range that the oldest student falls into must be selected.

A link to a public file/resource needs to be provided for each entry. Please do not send in source files. For example, entries can be uploaded onto a YouTube account with the privacy option on 'Public', or be able to be viewed independently.

The person completing the entry form will need to indicate they have read the

DigiAwards terms and conditions.
Supporting events
Free teacher/student workshop: June 18 & June 25 (1–3pm)
Explore the creative technology provided by Christchurch libraries and work with facilitators to:
learn new skills
be inspired
have fun
consider how to utilise new learning in DigiAwards entries.
Some of the technology includes: 
Stop motion
Audio and video software
Coding and robotics
Image editing software
The detail of this workshop is currently being planned. More information, including numbers, rooms and activities will follow.
Workshop venue: Tūranga Library, 60 Cathedral Square, Christchurch. 
Additional free teacher/student workshop: July 23 (1–3pm)
Workshop venue: Aranui Library, 109 Aldershot Street, Christchurch. 
You will be able to register for a workshop soon. 
DigiAwards and the National Curriculum
By participating in the DigiAwards, schools can help realise the New Zealand Curriculum vision of our young people being confident, creative, connected, actively involved, lifelong learners.
The DigiAwards provides an opportunity for our learners to:
experience learning that is underpinned by the high expectations and future focus principles

explore the values of excellence, innovation, inquiry, and curiosity

develop key competencies

achieve learning outcomes described in the English and Technology learning area, in particular the digital technologies areas of the Technology learning area.
The two new technological areas are:
Computational thinking for digital technologies – Students will develop an understanding of computer science principles that underlie all digital technologies. They'll learn core programming concepts so that they can become creators of digital technology, not just users.
Designing and developing digital outcomes – Students will learn how to design quality, fit-for-purpose digital solutions. 
The infographic below, from Kia Takatū ā Matihiko (Digital Readiness), highlights the differences between e-Learning and digital technologies and unpacks the desired outcomes of the revised National Curriculum. The content ringed in blue makes sense of the new technological areas and offers examples of digital technologies in action.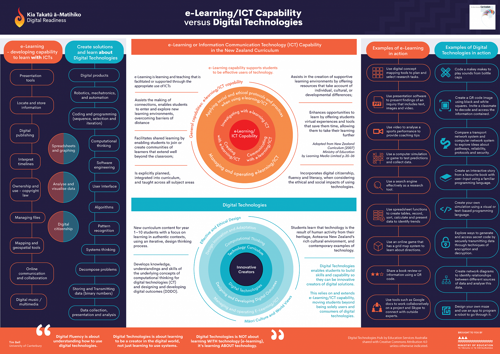 View large version of infographic
DigiAwards is consistent with an emphasis on future focused pedagogies, enabling primary and intermediate students to design, develop, and showcase digital outcomes. Learners who engage with DigiAwards will move from learning WITH technology to learning ABOUT technology, meeting the intent of the revised National Curriculum.
DigiAwards also supports learning around the design and visual communication technological area in The New Zealand Curriculum. Students who create entries for DigiAwards learn to apply design thinking as they develop ideas and respond to a brief.
The three strands of the technology learning area in the New Zealand Curriculum – Technological Practice, Technological Knowledge, and Nature of Technology – can all be explored through DigiAwards projects.
Te Marautanga o Aotearoa

In the Hangarau Wāhanga Ako, there are two new tupuranga (learning areas):
Te Whakaaro Rorohiko (Computational thinking) – Express problems, formulate solutions and solve them using algorithms, programme and data representation in te reo Māori.
Tangata me te Rorohiko  (People and computers) –  Design and develop digital outcomes to improve the lives of whānau, iwi, hapū and the environment. 
These new tupuranga support rangatahi to learn to become skilled creators, rather than just consumers, of digital innovations and inventions.
Supporting resources
Kia Takatū ā-Matihiko | Digital Readiness
Kia Takatū ā-Matihiko - the National Digital Readiness programme has been developed to ensure teachers and kaiako are ready to implement the new digital technologies content.
Technology in the New Zealand Curriculum
Find out more about technology and the two new digital focused technological areas in The New Zealand Curriculum. 
Digital technologies curriculum support
Technology Online offers a range of information, professional learning opportunities, resources, case studies, and innovative ideas around the revised technology learning area.
Digital technologies spotlight
This spotlight from New Zealand Curriculum Online explores the revised technology learning area, helping you understand the changes and support available. Find short videos, group activities, and opportunities for personal reflection.
Digital technologies and the national curriculum
This section of Enabling eLearning provides information, teaching ideas, and links to stories, resources, and professional learning opportunities around the revised technology learning area.
Digital technologies questions and answers
On this page you can find answers to the most common questions educators have been asking about digital technologies within the revised technology learning area.
Horizons and Connect School programmes
These programmes at Tūranga provide learning experiences in a technology-rich environment.
Fab Lab Christchurch
Thursday Fab Lab workshops are designed to develop competence in a particular Fab Lab skill. 
Instructional series – Connected
The following issues of Connected focus on computational thinking for digital technologies and designing and developing digital outcomes.