Back to Our stories
Avonside Girls' High School – Wellbeing programme
Avonside Girls' High School has a vision that all young women at the school are empowered to be confident in their own identity, are socially and emotionally connected, and flourish in all aspects of their lives. In developing their vision for learning, the school aspires to keep student wellbeing at the forefront of all that they do, believing that students cannot learn or achieve their potential without a strong sense of wellbeing. This story describes the 2017 implementation of a schoolwide wellbeing programme: Flourishing @ Avonside.
Programme design and implementation
In 2017, the school trialled a restructuring of their traditional house groups and form classes to better reflect the programme's guiding whakataukī:
Whakapūpūtia mai ō mānuka, kia kore ai e whati (cluster the branches of the mānuka so that they will not break).
To increase connectivity between students and staff, ngā pou (houses) were reduced to four, with each divided into smaller vertical whānau (form) classes. Each of these is made up of approximately 16 students from Years 9 – 13, assigned to one pouako (form teacher).
Wā ako (form) time occurs four times a week. Three of these sessions are shorter 15 minute time slots for general administrative tasks and one is an extended hour long time dedicated to the delivery of the wellbeing programme. A guided programme has been written and all pouako are encouraged to trial activities and resources as they work through the programme. Each term focuses on a different school value, and within this students learn skills towards mindfulness, growth mindset, and developing habits to be successful and self-directed learners.
The role of the pouako has changed to become an integral part of the pastoral care and support of students as well as whanāu liaison. Each pouako is expected to:
establish relationships and maintain regular contact with families and whānau;
deliver the wellbeing programme in wā ako;
provide pastoral care over an extended five year period for their Year 9 – 13 whānau group;
develop students' self–management skills;
be an academic mentor and coach, tracking each student's learning journey and achievements;
discuss learning issues, barriers and potential solutions; and
provide guidance on the transition beyond school.
Flourishing @ Avonside model
The following illustration shows the overall model and components of the Flourishing @ Avonside programme.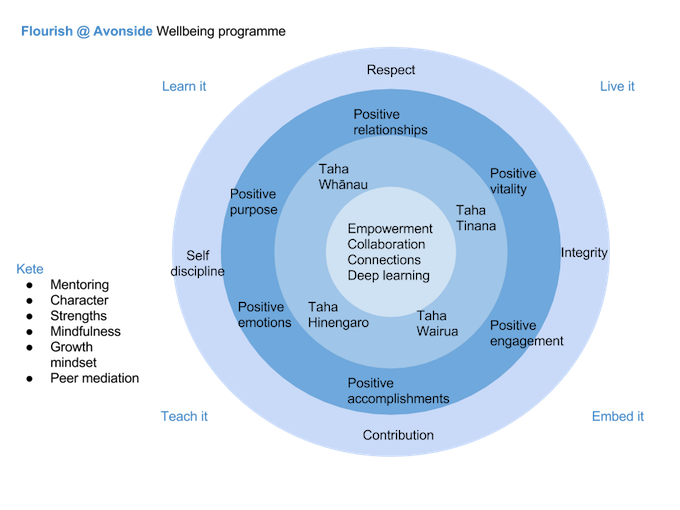 Staff learning and development
Avonside Girls' High School will relocate to a new site in 2019 where they will be co-locating with Shirley Boys' High School. This pending relocation and co–location introduced time pressure to implement and embed the wellbeing programme. Assistant Principal Tanya Phillips is clear that for a programme like this to succeed:
"It is essential to invest in your staff with time, energy, and resources and a strategic professional learning and development sequence – it takes a lot more than you think".
She suggests that a full year preparing staff before the programme began could have been beneficial for a smoother implementation process.
There has also been a focus in 2017 on building staff confidence in teaching character strengths, wellbeing strategies, and academic coaching. Staff are enthusiastic about the opportunities for better relationship building that the programme provides, and the 'learning while you implement approach' has had the effect of staff collaborating with one another to share their own learning and discoveries, with one staff member commenting that:
"We are starting to see staff sharing resources that they have found."
Review and evidence-gathering
The programme has been informed by regular review and gathering of evidence from staff and students. Some sources that have been used include data collected via student, teacher, and whānau surveys (both formal and informal), a regular Wellbeing @ School survey, student management system data, and teacher observations. Staff have also been encouraged to use Spiral of Inquiry and other appreciative inquiry approaches to reflect on and improve their own practice in delivering the wellbeing programme. These regular evidence-gathering opportunities have also helped the school to share and promote the changes with whānau and the school community.
Staff and student voice has been overwhelmingly positive regarding the programme, with student participants in one survey finding the question 'what would you change about the wellbeing programme?' a difficult one to answer – they didn't want anything changed! One student commented that:
"This year because of Ako time I enjoy school a lot more as I feel looked after by the other students and have easy access to support from my form teacher."
Next steps
The next steps for the Flourishing @ Avonside wellbeing programme are to:
create consistency across the school in the delivery of the wellbeing programme, processes, and approaches;
increase student leadership and ownership;
trial integration of wellbeing strategies into curriculum areas; and
increase community awareness.
Following the co–location, the focus will be on ensuring that wellbeing remains at the heart of the school in its new location, and that the wellbeing philosophy has been sustainably embedded across all aspects of school life.
Top tips
This has been a positive move for Avonside Girls' High School to encourage and develop the resiliency and wellbeing of their students. It has been well–grounded in the school's vision and strategic goals that were reviewed prior to the introduction of the programme. Their advice to others contemplating developing their own programme focussing on student wellbeing is:
Work out your WHY first – why do you want to change, why do you want to develop a wellbeing programme?
Make sure your reasoning is grounded in the school's vision and strategic goals.
Invest time (up to a full year) preparing staff by investing time in professional learning and development.
Focus on the needs of your students – look at other programmes and models but adapt to suit your learners, community and staff.
CONSULT, CONSULT, CONSULT – staff, students and the wider community.
Additional resources
The Flourishing @ Avonside programme builds upon research, writings, and work of the following:
The school's values of respect, integrity, self–discipline, contribution (RISC)