Nau mai, haere mai!
Grow Waitaha invites you to enter DigiAwards 2020!
The DigiAwards 2020 is still happening!
Celebrating authentic learning through digital creativity!
Your school is invited to participate in the DigiAwards 2020, this is the 7th year the competition has been held. Over 400 entries from Canterbury Schools were submitted in 2019 and we proud to carry on our creative competition this year!
The DigiAwards encourages and celebrates digital creativity in all Year 0–8 ākonga throughout Waitaha. The event enables ākonga to design, develop, and showcase their digital outcomes. Ākonga can start working on their projects at any time and upload them once entries open.
The 2020 theme is:
Ahakoa he iti, he pounamu–Although it is small, it is precious
Watch this video and hear from Gemma and Nichole about what this whakatauki, our theme, means to them.
Who can enter?
All Year 0–Year 8 students from the Canterbury region can enter the DigiAwards, including home-schooled children and students who attend Te Aho o Te Kura Pounamu in the Canterbury region.
Grow Waitaha encourages ākonga from Māori medium schools to submit entries in te reo Māori. 
Entries will be categorised in the following year groups:
Year 0–Year 2

Year 3–Year 4

Year 5–Year 6

Year 7–Year 8
If an entry is created by students from a range of ages, please select the year range that the oldest student falls into.
Key dates
24 July – Entries open

18 September – Competition closes

11 November – Celebration Event
Theme
DigiAwards theme 
The theme for DigiAwards 2020 is:
Ahakoa he iti, he pounamu–Although it is small, it is precious
You can also choose your own theme this year.   
Self–chosen theme
Educators and students who wish to submit entries under a self-chosen theme can identify their own special concept to focus projects on.
They may like to use this student hack to develop the theme (pdf). 
Judging Criteria
There have been some changes in the way we judge the entries.
We are using a single set of criteria to judge all of the entries, so that more different types of entries can be submitted and that we may judge them fairly.
You can still enter the video stories, websites that you are familiar with though!
We still retain the different Year level categories.
For more information we have made a two-page explainer.
We are offering a webinar to help understand the new criteria later in Term 2. These Facebook Live sessions will be a great opportunity to ask any questions you may have:
https://www.facebook.com/growwaitaha/posts/1619076284928094 
The criteria are available in English and Te reo Māori:
Download the criteria in English
Download the Te reo Māori criteria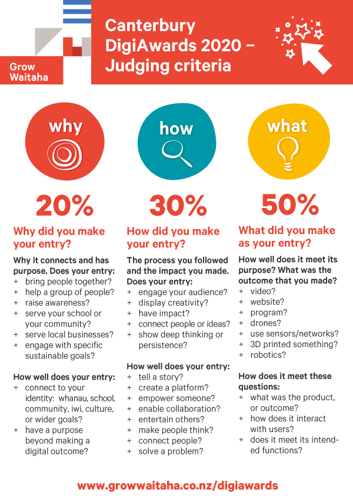 Entry criteria
To ensure the DigiAwards are fair, all entries must meet the following criteria:
All entries must be the original work of the student/s submitting the entry.

All entries must reflect the DigiAwards 2020 theme or a self chosen theme.

Any other media content, such as images and sound, need to adhere to appropriate

Creative Commons

licensing. See our list of supporting

Creative Commons websites

.

All entries must be created after 1 February 2020.  

The entry form needs to be completed in full.

An adult needs to be identified on the entry form.

If an entry is created by students from a range of ages, the year range that the oldest student falls into must be selected.

A link to a public file/resource needs to be provided for each entry. Please do not send in source files. For example, entries can be uploaded onto a YouTube account with the privacy option on 'Public', or be able to be viewed independently.

The person completing the entry form will need to indicate they have read the

DigiAwards terms and conditions.
FREE webinar series
Supporting our students
We are glad to offer the following series of webinars to support better digital outcomes. We aim to schedule these for later in Term 2 - more information soon!
1. Understanding the new judging criteria webinar
Here we will unpack and support understanding of our new judging criteria.
We have 2 Facebook Live sessions that will be available after the event for viewing as well:
https://www.facebook.com/growwaitaha/posts/1619076284928094
Here is a folder of resources we are using in these sessions.
2. Supporting our students webinar series
We will have a series of webinars aimed at students to support creation of digital outcomes in these areas. They will have a beginning, intermediate and advanced webinar.
Minecraft
Digital stories
Social media 
DigiAwards and the National Curriculum
By participating in the DigiAwards, schools can help realise the New Zealand Curriculum vision of our young people being confident, creative, connected, actively involved, lifelong learners.
The DigiAwards provides an opportunity for our learners to:
experience learning that is underpinned by the high expectations and future focus principles

explore the values of excellence, innovation, inquiry, and curiosity

develop key competencies

achieve learning outcomes described in the English and Technology learning area, in particular the digital technologies areas of the Technology learning area.
Find out more about DigiAwards and digital technologies learning (PDF).